Hi Domino's. Have you been working out? You look great! OK, we're not actually here to blow smoke up your ventilation hood. Just wanted to share some facts with you.
Let us show you one of the sexiest things a giant pizza chain can see, hard data. We recently conducted a very scientific study complete with algorithms, slide rules and counting on our fingers, and discovered that the #1 thing people search for on EAT24 is "Domino's." Yes, you heard that right. Before burgers, sushi, and even bacon, people are searching specifically for you. However, when they do, this is what they get: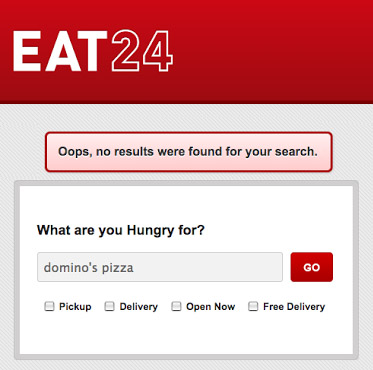 Now just in case you don't believe us, or you hate reading, here is a breakdown of the most searched items on EAT24. P.S. the data is shaped like a pie!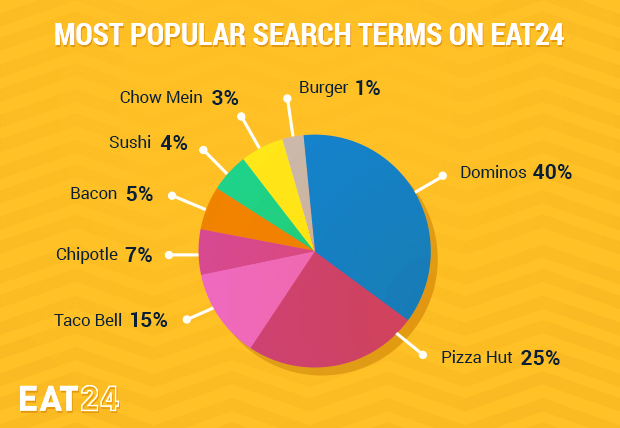 Now if that pie chart didn't excite you, maybe this next bit will. There are Domino's locations literally everywhere (even Intercourse, PA) making people hungry for pizza just by existing. When all those people search for "Domino's" on EAT24 and get no results, they turn to us. So… our inbox and Twitter feed are constantly filled with requests to add the local Domino's to EAT24.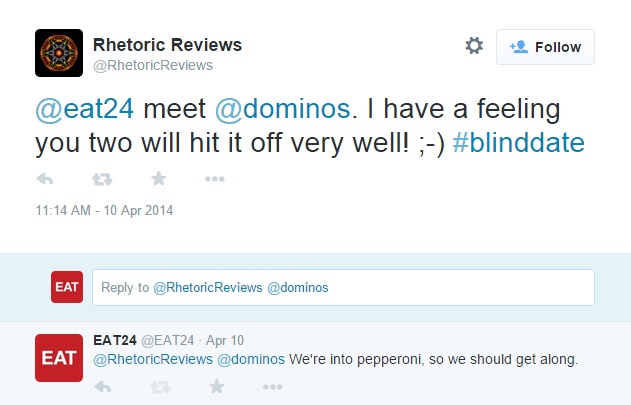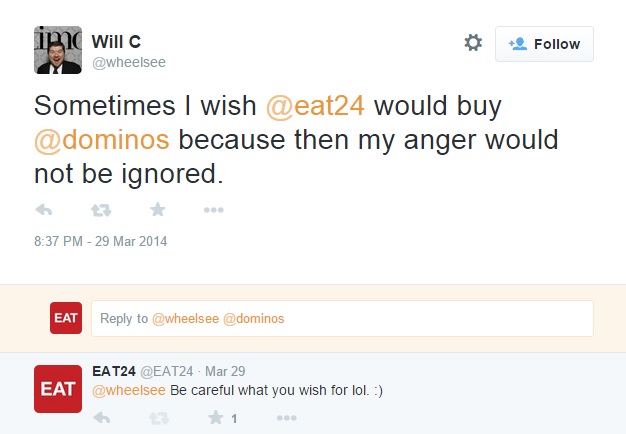 People who aren't surrounded by 20 different Thai Fusion places or eleventeen burrito emporiums are screaming out for their saucy, cheesy, crusty pizza, and the name they're screaming the loudest is Domino's. In fact, if we were to stack all the Domino's requests we've gotten from our customers, this is precisely how tall it would be.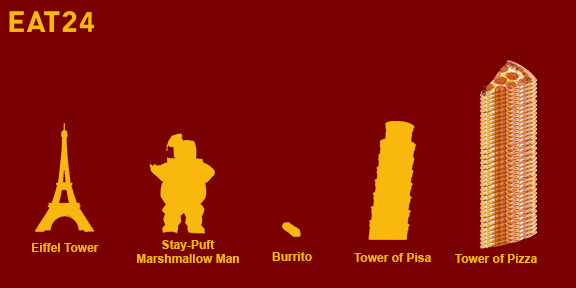 OK, one last thing (sorry for all the math). When users search "Domino's" on EAT24 and get no results, the bounce rate is around 0.7%. That means almost everyone stays on our app and orders from another pizza place that IS on EAT24, instead of going somewhere else… like, for example, Dominos.com. While you let that sink in, please enjoy this .gif of a giraffe eating leaves.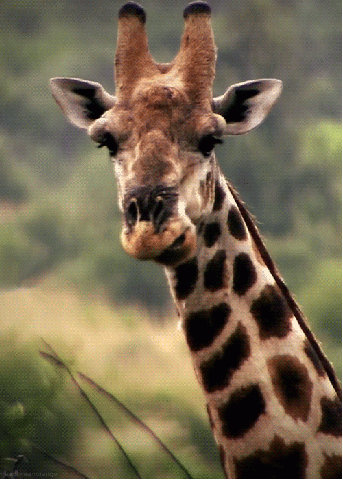 So with all this data, using science we come to this:
Problem: People want to order pizza with EAT24 (because EAT24 is the best way to order food online, duh) and people want Domino's.
Solution: Domino's should join EAT24.
This is just something to think about. Even though we know you're really busy coming up with super advanced technology like a re-order button (5 years late), an app for Pebble (what?), and ordering by voice (Let's think this through: You saved people a phone call by providing online ordering, then you develop an app that lets you order pizza by talking?).
OK, I think we're done here. We'll just leave you with this running tally of the sales you could be making with EAT24 while you were reading this.
(Visited 6,812 time, 1 visit today)