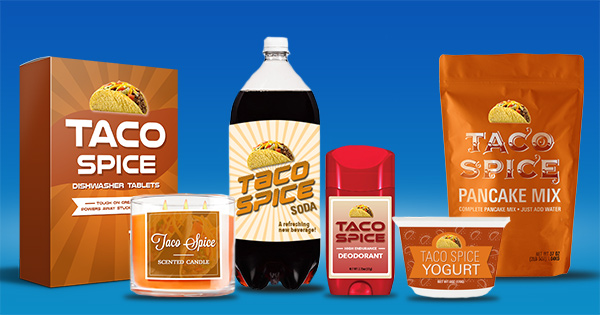 Dear Pumpkin Spice,
That's enough. You've made fall (easily one of our top four seasons) less spooky and more lame. We get it, you're a gourd with one month to shine, but does the world really need pumpkin spice yogurt and chips? No.
After several months of R&D (eating), we're excited to announce the new Fall Flavor of 2016: Taco Spice. It's full of antioxidants, vitamins, and jazz hands. Don't be surprised to see taco spice lattes, taco spice LaCroix*, and taco spice body butter coming to a soft or crispy taco-spiced app near you.
And since every new trend deserves a coupon**, use this code for $2 off the latest craze.
Coupon code: tortilla24


Want another coupon? Just tweet this: "Instead of love letters, I send a well-folded taco from @Eat24. #SponsoredBySalsa"
You're the Jarritos to our burritos.
Love,
Eat24
*We aren't actually affiliated with them (yet), but if anyone at LaCroix is listening (Hi), please contact our Marketing & Carbonation Team at media@eat24.com.
**Taco spice was just one of many hip flavor trends this year. Our other predictions? Kimchi spice, posh spice, xiqüe-aar spice (pronounced "Pete"), old spice, Smirnoff spice, orange chicken spice, spice spice baby, Dimension X spice, and mummified seaweed. Rumor has it there will also be a new breed of anti-spice that makes everything more bland, which we're hoping to test on Dave from Accounting. In other bland news: This $2 coupon expires on Sunday, October 9th, 2016 at 11:59PM PST. You must have a Eat24 account to use our code, which can only be used once on orders with a subtotal of $10 or more when paying with Credit Card, Apple Pay, Android Pay, or PayPal. The coupon is valid only on Eat24.com or the Eat24 app. Now remember people of the world, every boy and every girl, spice up your life.
(Visited 364 time, 1 visit today)