Remember that time we created What's Good, a super space-age algorithm to help you find the tastiest noms near you? Well, we wondered if it really worked, so we gave it a whirl in San Francisco. Good news! It not only works, it's even more awesome than we remember. Enjoy these mouth-watering faves and after you're done drooling, check out What's Good to see best munchies in your hood.
Pulled Pork Arepa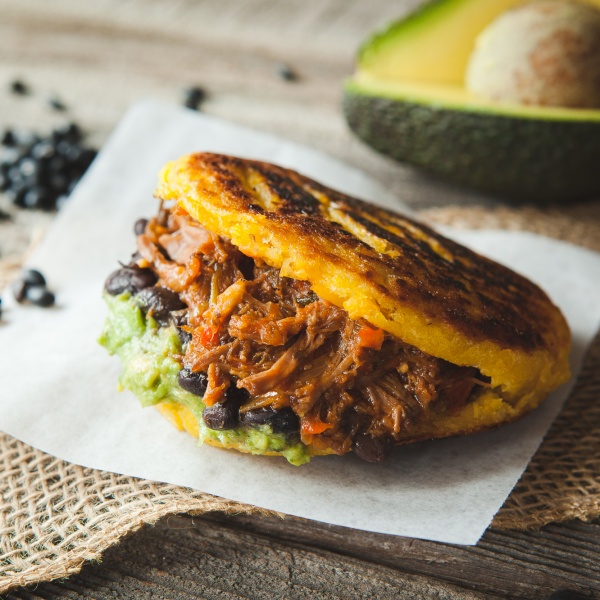 Take one look at the Pulled Pork Arepa and tell us you don't want to french kiss it. That's what we thought. Now find the nearest couch and prepare yourself for the pleasure of pork. Where to Get It: Pica Pica Maize Kitchen
Volcano Sushi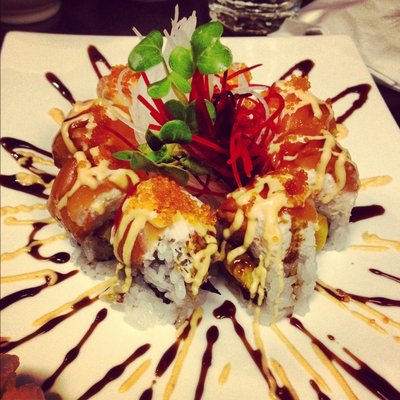 We love us some sushi and Yuubi Japanese Restaurant really knows how to deliver. Literally. We could go on and on about the spicy mayo and eel sauce, but the point is: put it in your mouth. Where to Get It: Yuubi Japanese Restaurant
Bacon Bloody Mary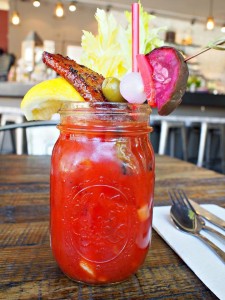 A cocktail delivered to your house? That's all you need to know, but we'll seal the deal by telling you it's completely delicious and comes with a slice of Kitchen Story's infamous Millionaire's Bacon. Where to Get It: Kitchen Story
Cinnamon Sriracha Wings w/Cinnamon Cream Sauce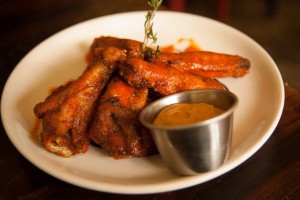 Wings are great on Wednesdays, but these wings transcend everything and demand to be ordered any day and everyday. Ideally, everyday. Seriously, why are you still reading this? Go order these right now. Where to Get It: Straw
Wagyu Burger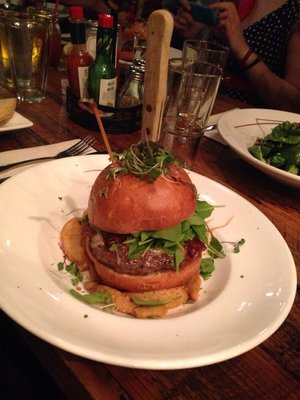 All we have to say about the "Burgah" Boy is DAMN. But what kind of reaction do you expect us to have when we're talking about a maple wagyu beef patty that gets topped with bacon, vermont white cheddar, and arugula? Yeah, exactly. Where to Get It: Kitchen Story
Sweet Potato Tater Tots w/ Blackberry BBQ Sauce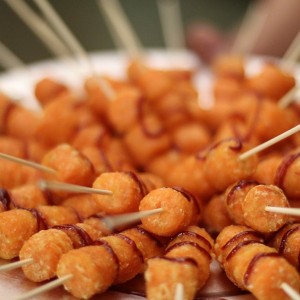 Sweet potatoes are doing amazing things lately, and chief among them is transforming themselves into tater tots. Way to go sweet potatoes! Now kindly get into our mouth. Where to Get It: Straw
Maple Bacon Cupcake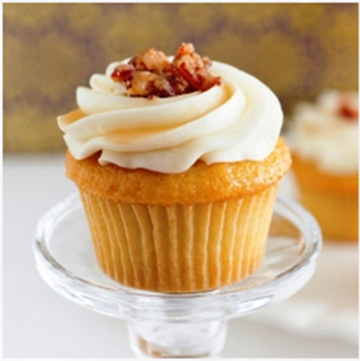 Love means no judgement, which is why we're taking this moment to let you know that not only would we not judge you if you ordered a dozen Maple Bacon Cupcakes to eat for dinner, we would actually love you more. Where to Get It: Cako
Seafood Okonomiyaki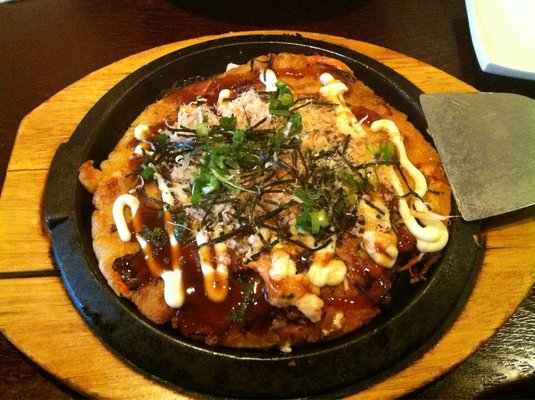 The two best things about ordering the Seafood Okonomiyaki from your couch are 1) It represents that height of savory pancake perfection 2) Ordering online mean you don't have to try and pronounce Okonomiyaki. Where to Get It: Genki Ramen
Fried Ravioli w/ Tikka Masala Dip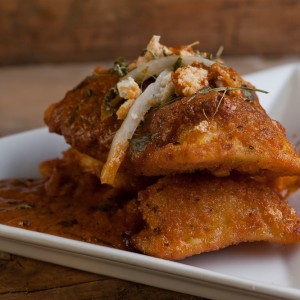 We've often wondered "If there's life on other planets, what kind of fusion foods are we missing?" Well, after tasting this badass fusion of Indian and Italian foods, we no longer care about the mysteries of extra-terrestrial fusion. In summary: Yum. Where to Get It: Curry Up Now
Kung Pao Pastrami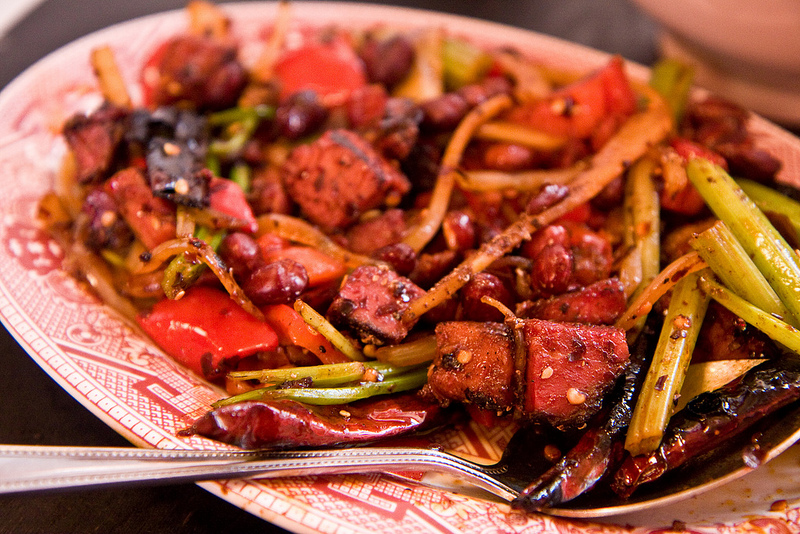 Yes. For real. Mission Chinese delivers. And yes, that means you can indulge in their world-famous Kung Pao Pastrami without leaving your house. Translation: F&@# lines! Get your butt to a couch STAT and order this. Where to Get It: Mission Chinese Food
Chicken Masala Pizza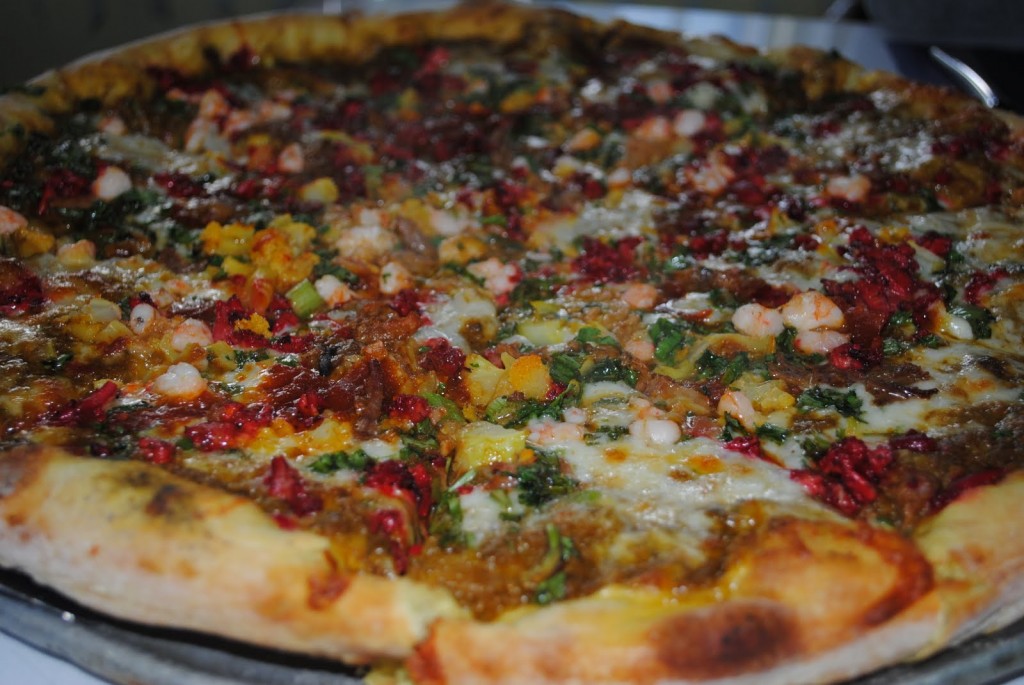 Two Words: Indian Pizza. Two more words: Your mouth. Any questions? We didn't think so. Where to Get It: Zantes Pizza
Chicken & Waffles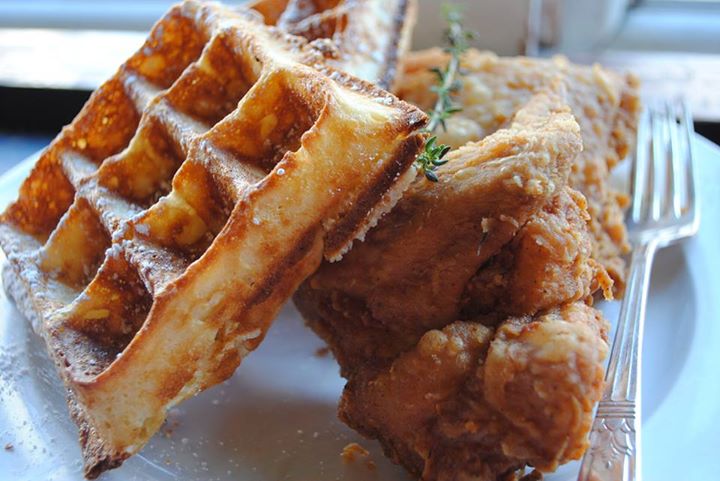 There's no arguing that chicken and waffles are magical. Seriously, how many hangovers have they cured? Probably 9 trillion. The only work you have to do is smothering this southern classic in butter and syrup. Trust us, you'll be good as new afterwards. Where to Get It: Little Skillet
Chashu Ramen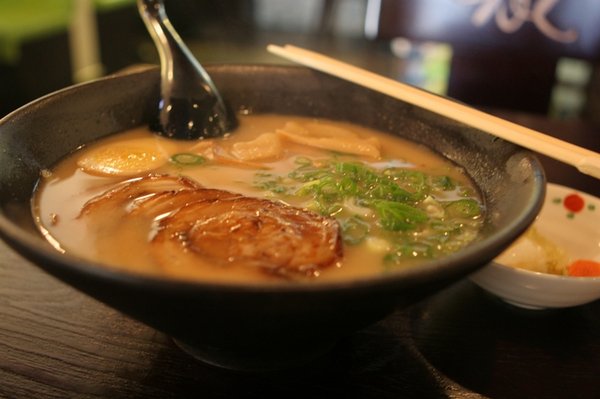 Word on the street is that your mouth deserves slow-cooked pork in a tasty broth. Don't ask who told us or why, just accept the fact that destiny just smiled on you and showed you the path to deliciousness. Where to Get It: Genki Ramen
Fried Chicken Sandwich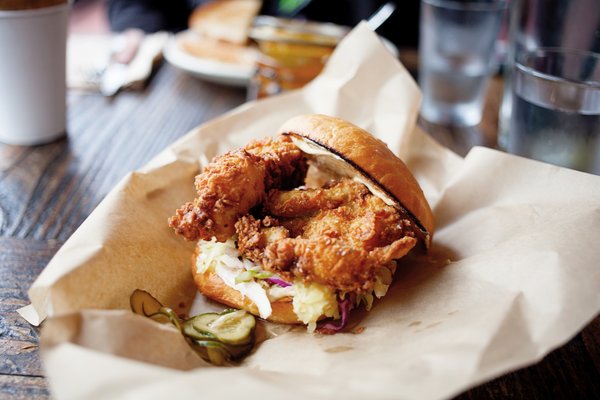 Yes, this is the Fried Chicken Sandwich that Guy Fieri freaked out about on Diners, Drive-Ins, and Dives. The fact that it can be delivered, then, means you can have this sandwich in your mouth (where it obviously belongs) without having to inhabit any space where Guy Fieri has ever been.* Where to Get It: Show Dogs
*Does not apply if you are Guy Fieri.
Pulled Pork Waffle Fries w/ Cheese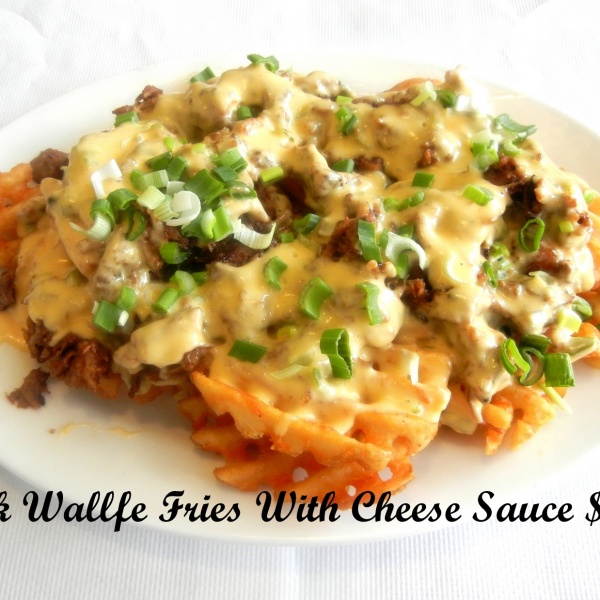 People always say you shouldn't eat out too much. Well, those people clearly don't understand the addictive properties of waffle fries covered in pork and cheese. Also, those people might be interested to know that it technically doesn't count as going out if you stay on the couch. Where to Get It: Americana Grill
Kunafa
You've eaten Schawarma, Falafel, and Baba Ganoush. Now all you need is dessert. Enter: Kunafa. Basically, they stuffed bombass vanilla pudding into sweet, shredded phillo dough and the result was your new favorite dessert. Where to Get It: Pharaohs Mediterranean Sandwich
Baby Back Ribs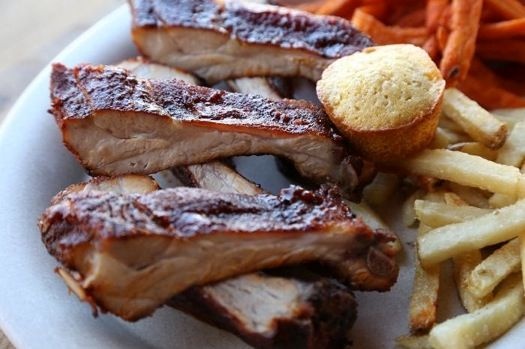 You could get on a plane and go to Texas for some BBQ…or you could stay in your Sponge Bob Pajamas and tell your phone to get it for you. If you decide to stay where you are (and we'd highly recommend it), we strongly suggest letting your mouth become acquainted with the tangy, tender ribs from this joint. Where to Get It: GS Riverside BBQ
Dim Sum Platter
A Dim Sum Platter delivered to your house. Go ahead and slap yourself if you want, but we can assure you this is very real. Where to Get It: Big Lantern
So, now that you've drooled all over your keyboard, download our app and check out What's Good near you!
(Visited 1,665 time, 1 visit today)