The Super Bowl (or Sports Thanksgiving) is a National Holiday in this beautiful country, and for good reason. It has something everyone can love, from checking out football player bums, to commercials with talking babies, to aging rock stars belting out their classic songs with laser lights and bikini-clad models. And, of course, there's the Puppy Bowl.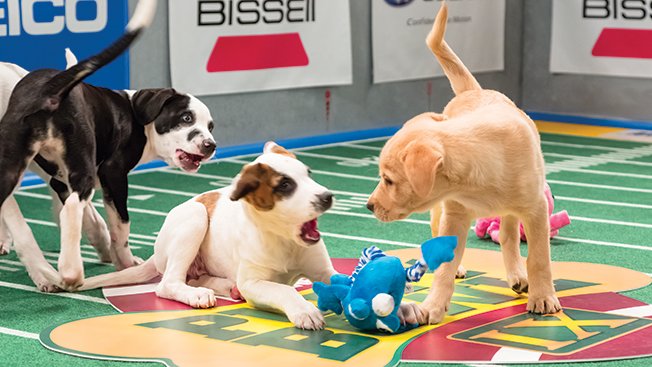 We want to make this year's Super Bowl extra special for everyone, whether you're in it for the sports, lip-synching, or just the atomic wings. To help, we're making the official Eat24 Super Bowl Party Bingo Drinking Game. But we need you to make it even more kick ass.
Before the big game, we're gathering your suggestions to help us fill the squares in our Bingo card. What do you think will be the biggest, most talked about events during Super Bowl XLVII? It can be something ridiculous like "take a shot when the quarterback from either team has a nipple slip", or something that will actually probably happen like "Sip for 3 seconds when PSY's 'Gangnam Style' plays".
Here's a sneak peak: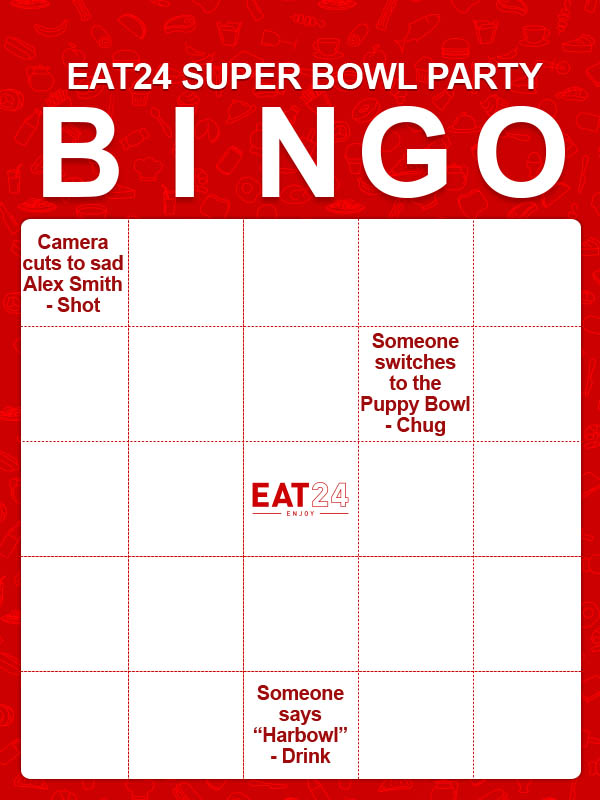 So send us your entries! If we pick your suggestion for the Eat24 Bingo Card, you'll get a Super coupon from us. Once the card is complete keep on eye on it, have plenty of drinks on hand, and proceed to get super drunk. For every event that gets marked off, we'll give everyone a coupon. Get three in a row, get $3, get five in a row everyone gets a $5 coupon. Get it? Of course you do.
Here are a few ideas to help you get started:
Take a drink whenever they cut to Jim Harbaugh and he looks like grumpy cat.
When anyone says "Harbowl", take a drink.
Every time someone mentions Ray Lewis' haunted past, drink.
When the Harbaughs get in a fistfight at the 50-yard line, drink the nearest family member's beer.
A comment about Kaepernicks tattoos? Drink.
The camera cuts to a sad Alex Smith, take a shot.
Someone at your party changes the channel to the Puppy Bowl, yell, then chug.
When a Receiver takes out a sound guy take a drink for his pain.
When Aliens come down and dance with Beyoncé during Halftime, finish everyone's drink.
Post your suggestion on the Eat24 Facebook wall or Twitter with #SuperBowlBingo for a chance to be a hero and win a sweet coupon.
(Visited 135 time, 1 visit today)