Well. That's it. No more football until Fall. But don't worry; if you need an excuse to order food online for Sundays, The Walking Dead will be back this week.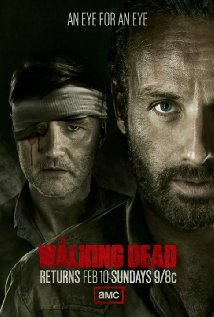 Mmmm. Nothing like ribs to go with some zombies.
We wanted to give a big thank you to everyone who participated in our Super Bowl Bingo game. For those that missed it, we made a Bingo card to make the game even more exciting (and drunk). The final Bingo Card looked a little bit like this.
Who would have thought that the perfect square would have been giant blackout.
Here's a breakdown of what went down:
3:25PM: Ray Lewis cries during Alicia Keys' Jazzy rendition of the National Anthem. 167 people used coupon "tears" and cried until their buffalo wings arrived.
3:45PM Jim Harbaugh gets all pissed off and throws his headset. 348 people use code "madjim" and cool down with a delicious pizza.
5:05PM: Beyoncé shows off what her Momma gave her and the camera guy goes in for a close up. 536 people get hungry and use code "rump roast".
5:33PM: The Ravens run back a kickoff for a TD, tying the NFL record. 312 people celebrate by using code "kickoff" .
5:38PM: The power goes out. Rumors of a Beyoncé booty causing the outage swarm on Twitter and Facebook.
5:42PM: Fireworks literally come out of a guitar! 366 people use code "kabaam" because the sight of a fireworks guitar instantly made them crave curly fries.
5:53PM: The power is still out. We as a country decide to flip over to the Puppy Bowl. 146 people use code "puppies" to feed their cute overload.
6:44PM: David Akers misses a field goal. There's a flag on the play and he nails the second attempt. We still give out a coupon "airball" and 214 people enjoy Akers' lucky mistake.
7:06PM: Colin Kaepernick runs it in for a TD and kisses his muscley tattooed arms. 263 people celebrate by kissing their chicken legs when they arrive from Eat24.
7:35PM: Alex Smith is shown brooding in a corner. 205 people use code "sadsies" to try to cheer up the 49er backup.
7:45PM: The Ravens win Super Bowl XLVII. San Francisco (and Eat24) gets sad.
Regardless, it was a great year to be a fan of football and food. We'll be here next year to provide you with all your favorite game-time snacks
(Visited 74 time, 1 visit today)